Reach users thanks to our
B2C Marketplace

web sales system.
Vision & Mission
A complete service to reach consumers.
The E-Commerce for companies registered in our database that are interested to improve their business with our own web sale system.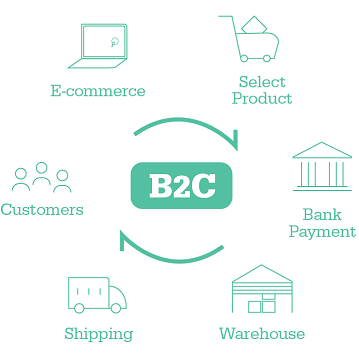 Advantages
No commitment deriving from using the technological platform

The B2C account can be completely managed by e-PlatForm back office while always being in contact with the seller.

Sale process cost control

Promotion towards consumers is managed entirely by e-PlatForm. Costs turn from fixed to variable thanks to our success fee based revenue model.

Negotiations and operations traceability

Payment and shipping are managed by specialized operators, reliable partner that have been doing this for ages. The user can also constantly monitor transactions thanks to the account "reports" area.
No extra costs, no technical infrastructure expenses and no license fee

Companies that want to enter the e-commerce world have often to bear high and not profitable initial costs. E-PlatForm's B2C Marketplace software provides registered companies the possibility of opening a store and sell without fixed costs.

Higher contribution margin

Registered companies increase margins thanks to customer retention and supply chain shrinking.

Immediate cash-in of earnings

Companies can withdraw their earnings directly thanks to the "Withdraw" account function. No intermediation needed.
Registration is simple and entry cost-free.
No entry costs, only a commission for every finalised sale.
Registration requirements
VAT registration number
Have a website
Registration to the chamber of commerce
No pending lawsuits