Access to new partners, products, buyers and sellers thanks to the
B2B Marketplace
Vision & Mission
Worldwide visibility for your company and products.
Join our B2B marketplace, develop and expand your business activities by getting in contact with both national and international operators that grant better access to new partners, products, buyers and sellers.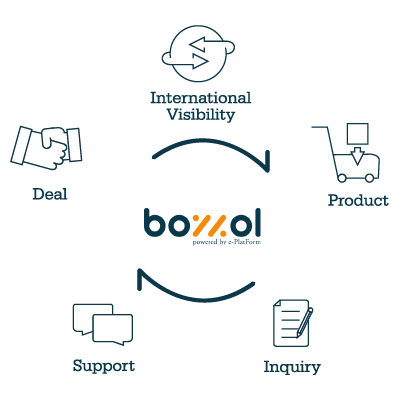 Advantages
International visibility

The B2B portal aims at giving global visibility to registered companies. The goal is to have a secure way to look for partners, products and buyers on a worldwide basis.

Only trustworthy and certified operators

Our extremely thorough checks on subscribers make the negotiation 100% safe and reliable.

Reduce your networking and research costs

The best price for you, thanks to direct contacts with producers.
Dedicated support

Quick and constant support is provided thanks to our international back office.

Reduce inventory costs

Purchase what you need, when you need, in the quantity you need.

Reduce idle time and red-tape

Manage communication in real time, find buyers and sellers in the same place.
Registration is simple and entry cost free.
No entry cost, no transaction management cost. The commission is calculated case-by-case if the transaction requires e-Platform back office assistance.
Registration requirements
VAT registration number
Have a website
Chamber of commerce registration
No pending lawsuits