Improve your business opportunities by accessing global markets thanks to the proper
internationalisation

know-how
Vision & Mission
The strategic consultancy to expand your business globally
We possess the proper know-how and expertise to internationalise your business in the markets we directly oversee, thanks to our activity in 15 countries and our 40+ year experience. Every company has its distinctive features. Every country its own peculiarities. Coordinating such things and finding the right balance is our bread and butter.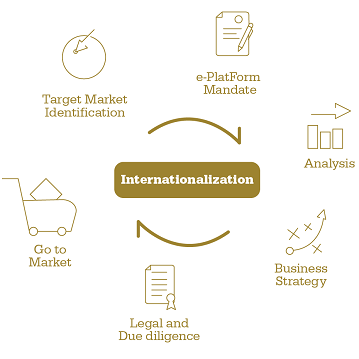 Advantages
Local monitoring

Thanks to operating branches in the countries we are present, we can directly evaluate the market, as well as its trends and potential

Active presence

We can immediately contact local enterprises thanks to our partner entrepreneurs that are locally deep-rooted.

International commodities

We manage commodity deals all over the world, with maximum confidentiality and professionalism, connecting selected companies which reputation and financial status are thoroughly checked.
Facilitated access

We can safely circumvent entry barriers and international hurdles thanks to the combination of experience and relationships with entrepreneurs and institutions.

Simple communication

Thanks to e-PlatForm you will enter a network where companies are in constant communication both online and offline. Hence, we can provide absolute ease of connection between parties.

Consolidated services

Thanks to our business consultancy network, we provide services that go from logistics to M&A, from finance to legal support.