Bioforma SMALL TABLE-BED SOGNO
(ENG) Stylish small walnut table, with a practical bed inside (size: 180x74x7 cm), perfect for small spaces. The iron bed base, sturdy and at the same time practical and foldable, sustains a mattress composed of two layers of slow-return foam. The first layer of the mattress is made of Viscopur, for supporting the weight of the body during sleep; the second layer is made of Aqupur, an high-density water-foamed polyurethane. Maximum wellness during the sleep, combined with fine furniture.
(ITA) Elegante tavolino in legno di noce, contenente un pratico letto di dimensioni 180x74x7 cm, ideale da utilizzare nei piccoli spazi. La rete in ferro, solida e allo stesso tempo comoda e pieghevole, sorregge un materasso composto da ben due strati di schiuma a lento ritorno: un primo strato in Viscopur, schiuma adatta a sostenere il peso durante il riposo notturno, ed un secondo strato in Aqupur, schiuma ad alta densità a base d'acqua. Tutto il benessere del sonno, firmato BIOFORMA, assieme ad un'elegante soluzione di design e arredamento.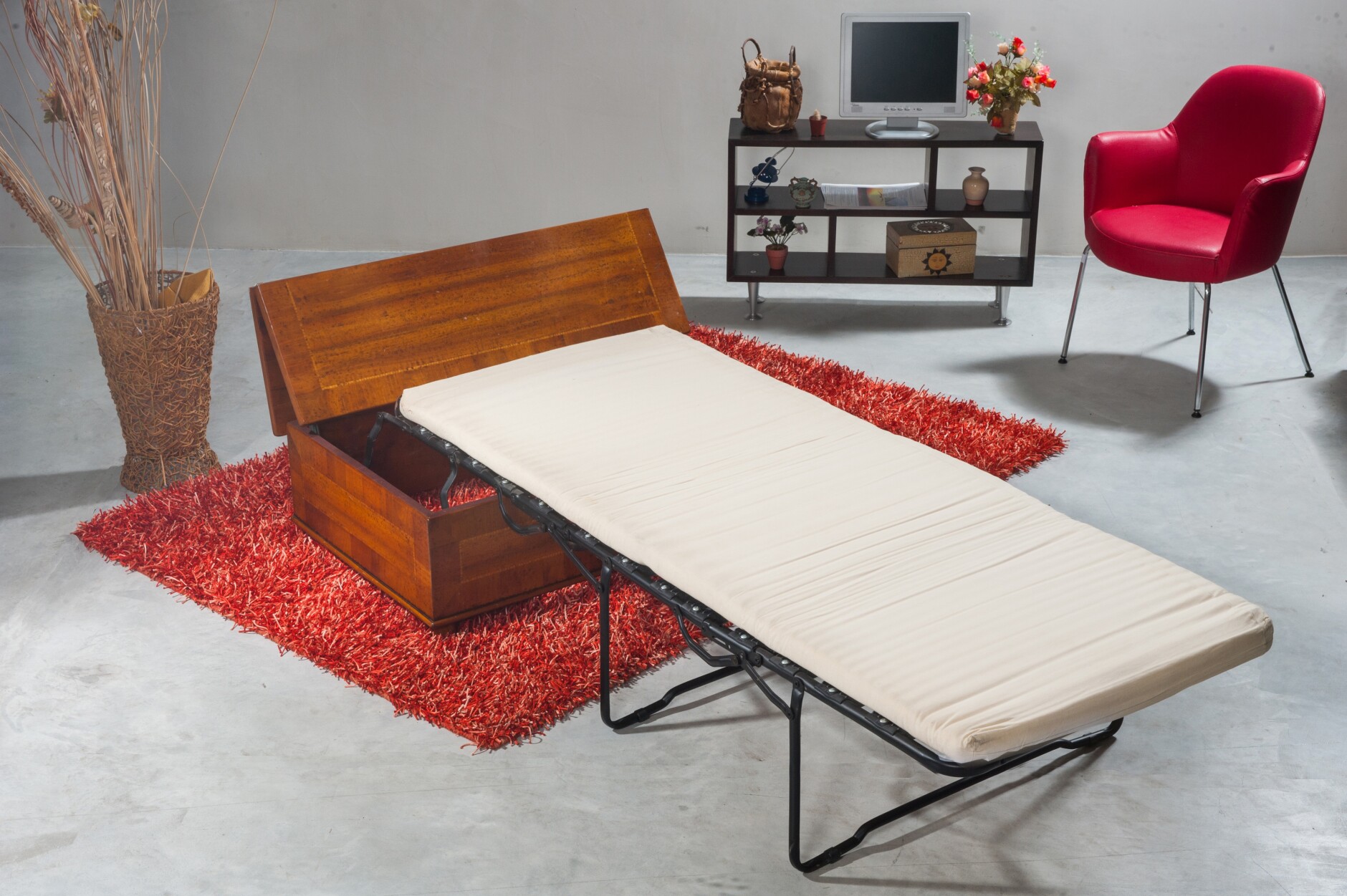 DETTAGLI
Size (closed table-bed) 100x80x40 cm
Material (table-bed) Walnut wood, walnut paint
Bed base Iron. Colour: black
Material (mattress, first layer) Viscopur - slow-return visco-elastic foam (2 cm)
Material (mattress, second layer) Aqupur - high-density water-foamed polyurethane (5 cm)
Size (mattress) 180x74x7 cm
Density (mattress) Firm
Internal cover (mattress) Jersey 100% cotton. Colour: white. Removable
External cover (mattress) 100% PL, with Zipper on three sides. Colour: white. Removable
Packaging Box